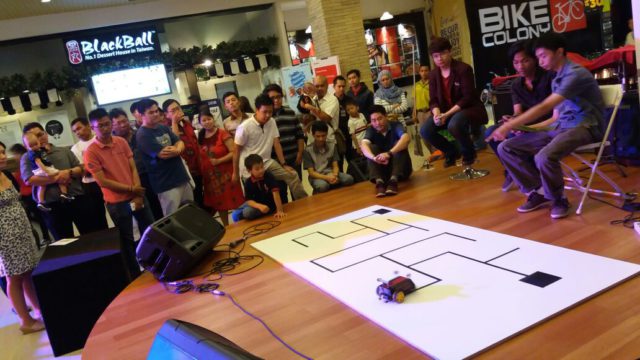 The Maze Solver Competition on 28th and 29th of May 2016 was planned and prepared by and for Automotive & Robotics Engineering and Product Design Engineering sophomore students in BINUS ASO School of Engineering (BASE). With aim to exercise some important skills such as project management, teamwork, public presentation, as well as to build competitive spirit among the students at their early stage of study, this competition was successfully held in Living World mall.
A total of eight groups participated in this competition. Each group was required to build their own mobile robot to solve the given maze within three months. After the three-month preparation, all groups gathered and excited to challenge their first own intelligent creation. Holding such competition in public, exercised students' perseverance as well as their emotional stability. Determination of the winning team was based on the robot's ability in solving the maze in a timely manner as well as its aesthetic aspects.
Would you like to see their first own intelligent creation?
| | |
| --- | --- |
| Sharky | VIP |